9 fawns of Milu deer born in Inner Mongolia in China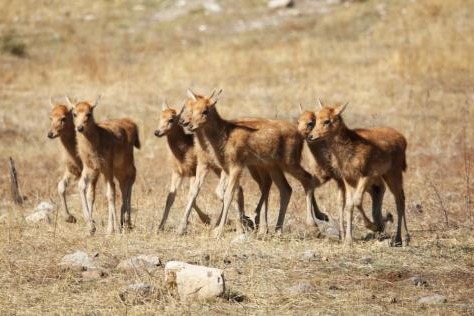 HOHHOT — Nine fawns of milu deer were born in Daqingshan Nature Reserve in north China's Inner Mongolia Autonomous Region, the reserve's management office said.
This is the first generation of offspring born from the Milu deer that was released into the wild in the region.
In September 2021, to replenish the wild population of the endangered animal, China released 27 milu deer into the reserve.
Reserve staff put satellite tracking collars on the deer to monitor their activities in the wild, allowing researchers to receive timely information on their health status to ensure their safety.
The latest monitoring results show that the deer population initially adapted to the alpine climate and reproduced successfully, indicating that the wild release of deer into the wild has achieved early success.
The Milu deer, also known as Father David's deer, is endemic to China where it is nicknamed "sibuxiang" or "like none of the four" due to its unique features: a horse face, a tail of donkey, hooves in the shape of a cow. and deer antlers.
The milu deer is under first-class national protection in China. Currently, its population has reached almost 10,000 in the country.