Alaska National Guard, Mongolia Host Expert Exchange SPP > Air National Guard > Article Display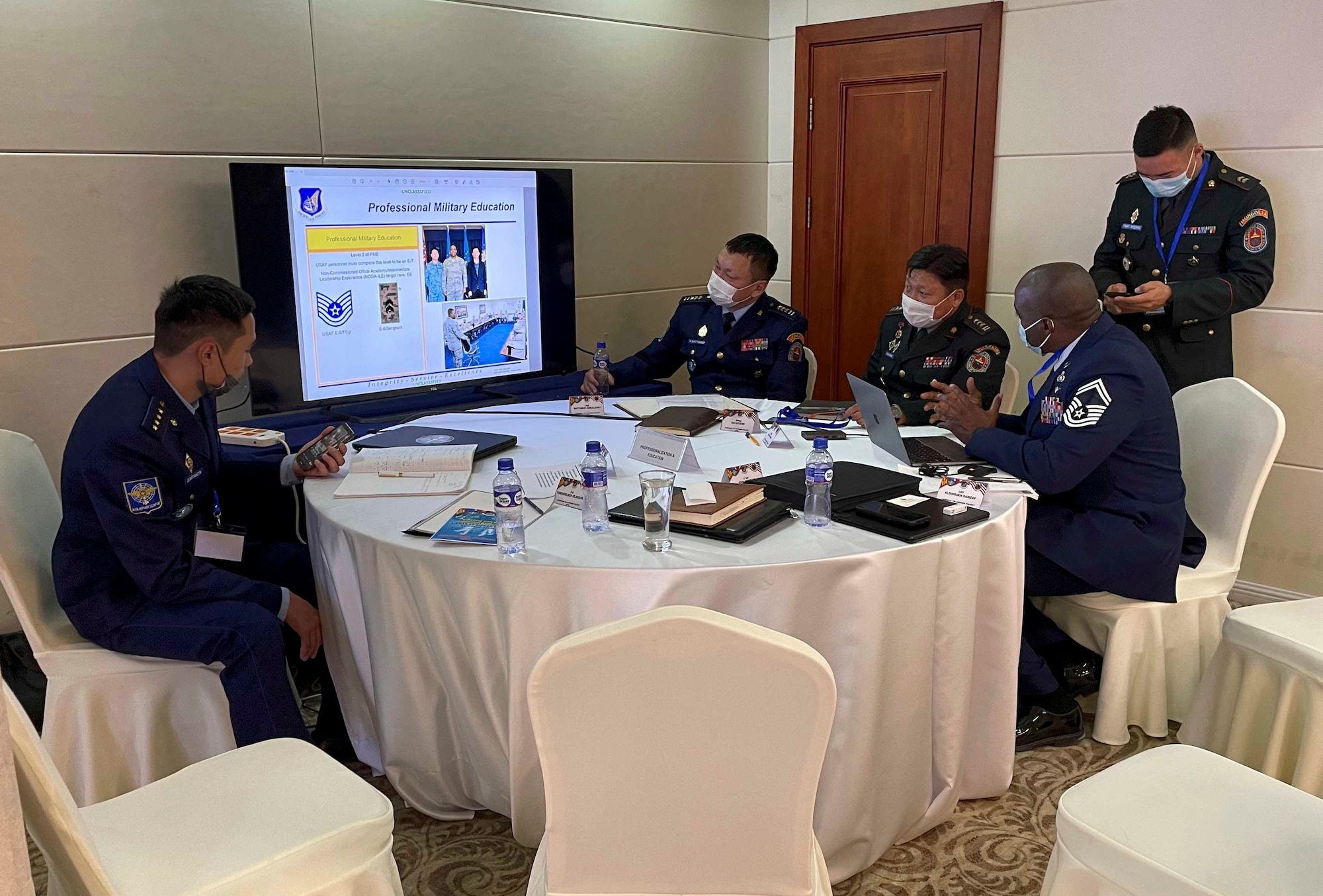 JOINT BASE ELMENDORF-RICHARDSON, Alaska – The Alaska National Guard participated in the second iteration of the Airman-to-Airman Interview Program with the Mongolian Air Force to plan future training and expert exchanges in the matter.
Hosted by the US Pacific Air Force, the A2AT program develops interoperability, fosters military-to-military relations and improves bilateral cooperation. Air forces from the United States and partner nations conduct these missions to plan collaborative activities and discuss common goals.
The program is tied to the National Guard's State Partnership Program, which has had Alaska and Mongolia as partners since 2003. The National Guard participates with other militaries to support defense security objectives through the SPP.
"[A2AT] gives each of our different components the opportunity to learn best practices from each other," said Chief Master Sgt. Mike Keegan, chief enlisted manager for the 176th Civil Engineer Squadron and participant in the last engagement in November. "For Alaskan rangers, it's an opportunity to participate in missions outside of their country, outside of their state, that are directly related to their [career] skills training."
Keegan said the Alaska Guard is working alongside the Mongolian Air Force on engineering and logistics skills. The Mongolian Air Force is relatively new and uses partnership to improve its efficiency.
Alaska and Mongolia first participated in A2AT in Hawaii in March 2019.
For A2AT 2021, U.S. and Mongolian service members participated in five task force topics: Exercises and Engagements, Logistics, Professionalization and Education, Medical, and High Performance.
Keegan, who is part of the logistics group, said members discussed best practices, subject matter expert exchanges, airfield operations, security forces and search and rescue. The Mongolian Air Force is particularly interested in rescue capabilities and looks to the Alaska Air National Guard's search and rescue assets for guidance.
The Alaska Guard and the Mongolian Air Force have agreed to host subject matter expert exchanges and official visits to Alaska and Mongolia.
"Our mission there throughout the Airman Talks was to work and grow together," Keegan said. "We don't give them their goals; we are there to offer them help and help train them.