Amelia's ticket to cross Mongolia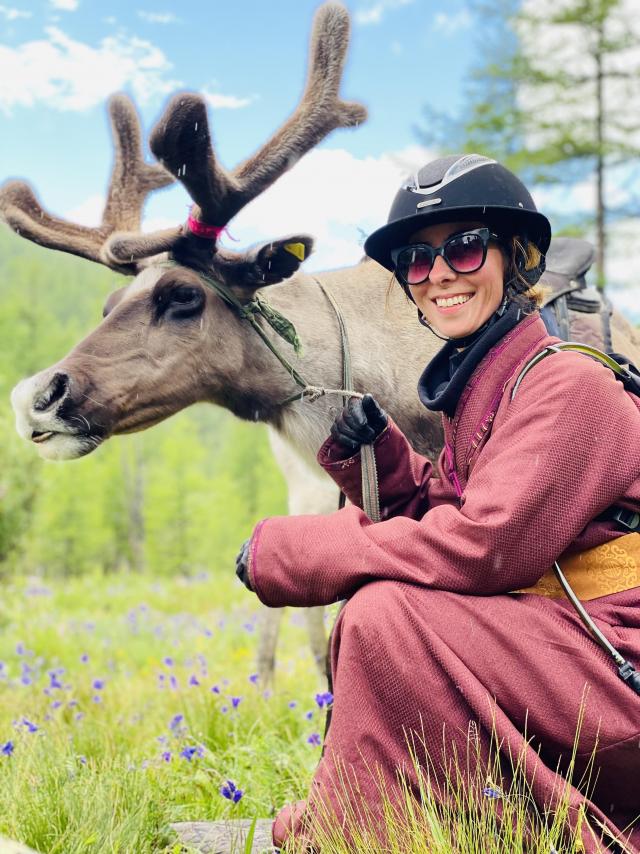 Amelie Olsen
Widgee woman, Amelia Olsen has set off on a once-in-a-lifetime expedition to mystical Mongolia, land of ancient tribes and legendary conquerors.
Here, she recounts her incredible journey in her own words:
When I called my mother and told her that I had booked a trip to Mongolia, there was a big pause in the conversation.
She replied, "Only you would be crazy enough to ride a reindeer through the country sandwiched between China and Russia right now, Amelia!"
The Great Nomad Expedition was the first of its kind – ten women from around the world rode 1200 kilometers on four different animals – camels through the Gobi Desert, yaks in what looked like a medieval dream through the mountains, horses through the open spaces of steppes and meadows and reindeer through the wild flowers of the forest, to end up treading carefully on the summer snow of the far north of the country.
Is Mongolia a typical tourist destination?
No.
But it's a place to immerse yourself in a different culture, inspire your senses on all levels, and recharge your soul.
As a last minute addition to the group, I wasn't exactly well prepared.
I have ridden very little in recent years, but how can I say "no" to such a fabulous experience?
Accompanied by our tour guides, translators, chef and a cameraman, we had a team of ten people to help us on our way.
The Mongolian people generously organized a concert for us in the desert, they entertained us with horse racing and archery demonstrations, sacrificed goats for us as guests, shared their delicious cream double curd on bread, rhubarb jam, copious amounts of milk-tea and homemade vodka.
One day when our kitchen and camping trucks were repeatedly bogged down by unseasonable summer rains, our team called ahead to another family of ranchers and arranged for a soup to be made for twenty people.
In Mongolian culture, no one is ever turned away, there is a solution to every problem, and these beautiful people talk less and approach life in a positive, mindful, and intuitive way.
Sometimes we were camped in the most spectacular locations, while other times we were welcomed into the homes of nomadic herding families.
We slept, piled like sardines on the floor next to the fire, and listened to a young dad hum his baby girl to sleep in the middle of the night.
We survived saddle sores, sprains, strains, squats and minimal showers for three weeks.
Some of the runners were determined to go the distance, while others had their own reason for joining the expedition.
At least once a day we had a "Ohhhh….CRAAAAAAPPPPPP!!!" moment.
Whether it's baking in the sun on a camel, stuck in a river, riding pack horses, yaks timid and whirling when they spot the rider on their backs.
A reindeer knocked me down after a dog bounced out of the bushes.
And we enjoyed the Mongolian horses, affectionately known as "rocket donkeys" that could trot and gallop for hours non-stop.
It was literally the ride of a lifetime!
Special thanks to Tania from Helloworld Travel Gympie for booking my flights and the girls from Gympie Saddleworld for fitting me in last minute.