China and Mongolia finalize key rail crossings – The Diplomat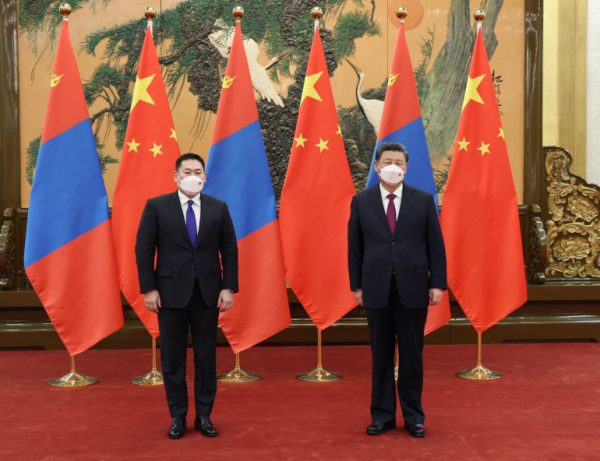 Mongolian Prime Minister Oyun-Erdene Luvsannamsrai and his delegation recently concluded a five-day working visit to China. During her visit, Oyun-Erdene attended the opening ceremony of the Beijing 2022 Winter Olympics and met with Chinese President Xi Jinping and other senior officials, including Premier Li Keqiang. In addition, the two sides achieved a significant breakthrough on railway and infrastructure projects which have been stalled for more than a decade.
On Feb. 7, Xi received the Mongolian prime minister at the Great Hall of the People in Beijing. During the high-level meeting, Xi voiced China's cooperation objective with Mongolia, emphasizing infrastructure and development projects.
According to the Chinese Foreign Ministry, "Xi Jinping stressed that both sides should respect each other's independence, sovereignty and territorial integrity, respect each other's choice of development path, consider each other's core interests and firmly lead the sound development of China-Mongolia relations."
In a joint statement, Mongolia and China reiterated respect for each other's independence and territorial integrity, as well as the principle of non-interference in domestic politics. They also pledged to engage in cooperation and assistance as global strategic partners. Mongolia hopes to accelerate economic activities, including trade, major infrastructure projects, railways and development-oriented cooperation. According to Mongolian Foreign Minister Battsetseg Batmunkh, Oyun-Erdene and Xi held a "fruitful high-level dialogue".
During the talks, the two sides discussed railway plans at the Gashuunsukhait-Gantsmod and Shiveekhuren-Sekhee border crossing points. This has been a long-standing priority for Mongolia, particularly the construction of a railway at Gashuunsukhait-Gantsmod – the port handles over 50% of Mongolia's copper and coking coal exports. Oyun-Erdene had urged Xi to "give particular attention" to railway construction at Gashuunsukhait-Gantsmod when they met.
In October 2021, Mongolian Road and Transport Development Minister Khaltar Luvsan explained the necessary steps that need to be taken by Mongolia and China in order to finalize the railway border crossing points. "Mongolia and China need to settle and finalize two issues regarding Gashuunsukhait-Gantsmod Port. First of all, we have to agree on the meeting point of the railway border post," Khaltar said. "Secondly, we must follow the umbrella of international freight protocols, which means that Mongolian coals will be transferred to Chinese trains at Gantsmod."
During the February meetings, Mongolia and China finalized these two protracted issues in a breakthrough – especially for the Mongolian side.
The Gashuunsukhait-Gantsmod border crossing has been a controversial topic for Mongolian policymakers for years. Although different parties and ministries agreed on the economic importance of the railway, they disagreed on many important technical aspects such as railway gauge, investment allocation and impacts environmental and geological factors that accompany such an important megaproject. The financial issue was also one of the main obstacles. China's proposed railway project is more expensive than the Mongols envisioned.
The finalization of the agreements on the border crossing points does not mean that these dynamics have disappeared or been forgotten. In particular, the proposed railway may cross a nationally protected heritage site. The remaining issues should be fully addressed and resolved by the Mongolian side.
From a geopolitical point of view, Mongolia's landlocked position poses a constant struggle for administrations to advance their economic agenda. Mongolia's foreign policy, especially relations with its two neighbors – Russia and China – must build tangible economic benefits. The establishment of strong relations with China and Russia gives Mongolia access to maritime routes and the ability to trade and export to neighboring third countries.
Recent bilateral agreements between China and Mongolia illustrate Mongolia's economic objectives. In the case of China, the goals involve more geopolitical nuances.
China has a growing need to strengthen its diplomatic relations in general as it continues to compete strategically with the United States. Beijing's strategy amid the geopolitical competition is to strengthen economic ties with countries around the world, in the hope that this will lead to increased political support. It is therefore strategically crucial for Beijing to accelerate bilateral agreements, negotiations, economic and trade agreements.
On the energy front in particular, China also has more immediate needs. After experiencing months of power shortages, China's short-term and long-term goals are to secure power sources for state-owned factories and private enterprises. The Chinese government has an opportunity to secure increased energy supplies from Russia and Mongolia. Advancing plans to increase connectivity with Mongolia will help in this regard. Mongolia's proximity and high-quality coal could be just what China needs – and increased trade will benefit Mongolia's economy.
Oyun-Erdene's successful working visit promised a high overall strategic partnership between the two governments. As Mongolia continues to implement its long-term development strategy, Vision 2050, the activation of a strategic economic partnership with China will inspire other partners to step up their economic game with Mongolia.