Chinese-funded hydropower plant faces popular opposition in Mongolia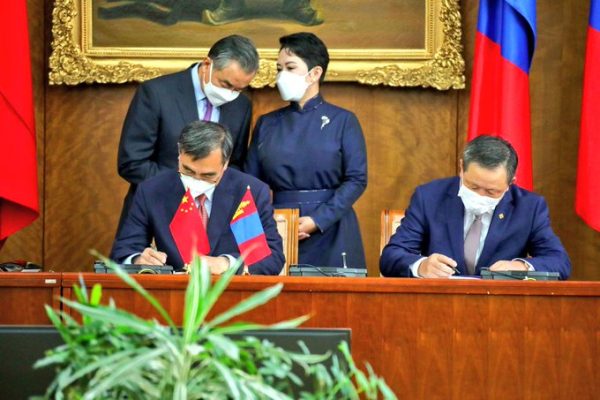 In early August, Chinese Foreign Minister Wang Yi paid a two-day state visit to Mongolia. There he signed important energy agreements, including a commitment to advance the Erdeneburen hydroelectric plant. This particular energy deal raises a wide range of speculation about deepening Sino-Mongolian bilateral relations, but also environmental concerns – the project has the potential to damage Ramsar wetlands in northwestern Mongolia.
It was Mr. Wang's fourth official visit to Mongolia since he became China's foreign minister in 2013. This particular visit was highly anticipated after tremendous efforts by the Mongolian side to deal with Beijing's draconian policy on COIVD-19. During Wang's state visit, Mongolia and China signed the cooperation agreement and plans for 2023-2024.
To revive bilateral economic activities, the Mongolian government has prioritized major infrastructure deals, partly to attract foreign direct investment and partly to accelerate long-stalled megaprojects, including the Erdeneburen hydroelectric power station.
The 90-megawatt Erdeneburen hydroelectric power plant, which is expected to be Mongolia's largest dam, is part of Ulaanbaatar's efforts to diversify its energy sources. Mongolia's energy dependence on Russia and China – and the constant shortages and problematic management – ​​have caused headaches for various administrations for decades. At the same time, managing such a large hydropower plant could also prove difficult, as Mongolia has no previous experience in this regard.
In September 2021, Mongolia signed an agreement awarding construction of the hydropower plant to the Power Construction Corporation of China, with the deal to be funded by a $1 billion loan from the Chinese government.
In January 2022, Mongolian Energy Minister Tavinbekh Nansal said construction would start in March and take just over five years. "The only problem that remains is to remove local communities that have agricultural and livestock establishments" in the affected area, Tavinbekh said. "The government is working to relocate these communities and find probable financial reimbursement for their relocation."
The government is moving forward, but the Erdeneburen hydroelectric plant remains controversial. This can cause significant environmental damage to one of Mongolia's most extensive wetlands, which supports not only the local community but also migratory animals and protected animals such as snow leopards. Wetlands act like a big sponge that collects and removes environmental toxins. Wetland removal can lead to a cascade of environmental failures.
Moreover, even on the topic of management, the sustainability of such a large hydropower plant is also questionable, given Mongolia's previous failure to pursue hydropower plants as an alternative energy.
A prominent case is the Egiin Gol power station, which started in 1991 and got Chinese funding, but ran into environmental opposition from Russia. After 16 years of back and forth, effort and wasted time, he was finally arrested in 2007.
The Erdeneburen hydropower plant, while promising and potentially game-changing, lacks public confidence. The underlying issue is precisely the same as Egiin Gol: environmental concerns. It doesn't matter if the Russians raised the environmental issue or the Mongolian environmentalists brought it to light. These issues need to be addressed and discussed publicly.
In an opinion piece published in June, Mongolian environmental activist Sukhgerel Dugersuren wrote a detailed report on the potential damage that the Erdeneburen hydropower plant could cause to native species in this region. She concluded that PowerChina – the engineering company that would carry out the work on the dam – is known for its "fast dam construction" and high-quality construction.
As Mongolia transitions to hydroelectric power – something Mongolia is not used to, given its extreme distance from a large body of water – the last thing the country needs is to build a dam quickly and spend decades repairing it. Therefore, it is essential that the government and its agencies review and discuss all aspects before committing to destroying a large area of ​​undisturbed landscape.
According to Sukhgerel, "[A]Since June 2, the construction has not started: the competent authorities in China are hesitant since the local communities have expressed their concerns via the embassy in Mongolia.
Popular opposition to such a large power plant is not surprising. The destruction of a vast area of ​​natural habitat will be met with popular animosity in Mongolia. This public opposition is not new, nor unique to the Erdeneburen project.
On the one hand, through different administrations, the Mongolian government has often rushed to attract foreign direct investment without meticulous research and allocation plans for financial and capital resources.
Second, when a megaproject proposal or agreement is underway, the government repeatedly forgets or neglects the concerns of local communities, causing widespread opposition. Most concerns relate to the destruction of certain sacred lands and natural habitats. A major case involved earlier efforts to save Noyon Uul from exploitation in a mining project.
While the need to accelerate Mongolia's economy and diversify its energy sector is crucial, the government should not turn a blind eye to environmental issues that can damage the country's largest wetlands.
Yet Mongolia's current government has been proactive in promoting major infrastructure deals with Beijing, including not only the Erdeneburen project, but major railways as well.
Prime Minister Oyun-Erdene Luvsannamsrai's government is seeking to align Mongolia's infrastructure development plans with Beijing's Belt and Road Initiative. The logic behind such a strategy is that Beijing has always been open to cooperating with Mongolia's development sector and has acted as a major financier. Oyun-Erdene has already repeatedly mentioned the economic opportunities offered by China under his government's "New Stimulus Policy", a post-COVID economic recovery plan.
However, skeptics in the current government have expressed concerns about the government's excessive involvement in megaprojects. Mongolia's growing dependence on China is also of concern.
In the grand order of themes, since the invasion of Ukraine by Russia, Mongolia's foreign policy has been in troubled waters. As Ulaanbaatar prioritizes its traditional bilateral relations with Russia and China – for obvious geopolitical reasons – the importance of having maintained a strong connection with the rest of the world has become increasingly clear.
It was a busy summer for Mongolia. Ulaanbaatar has hosted several international conferences and several high-level visits by foreign officials. After Wang Yi's state visit, UN Secretary-General Antonio Guterres visited Mongolia and participated in a tree-planting ceremony with Mongolian President Khurelsukh Ukhnaa.
Despite these high-level visits and international commitments on climate change and environmental investments, the government must respond to the issues raised by the Erdeneburen hydropower plant.
Considering Mongolia's ecosystem, smaller wetlands play an important role in preserving the country's vast, untouched landscape. In short, at a time when the president has pledged to plant 1 billion trees, the other side of the government cannot be negligent and deceitful on other environmental concerns.