Fight against modernization – The diplomat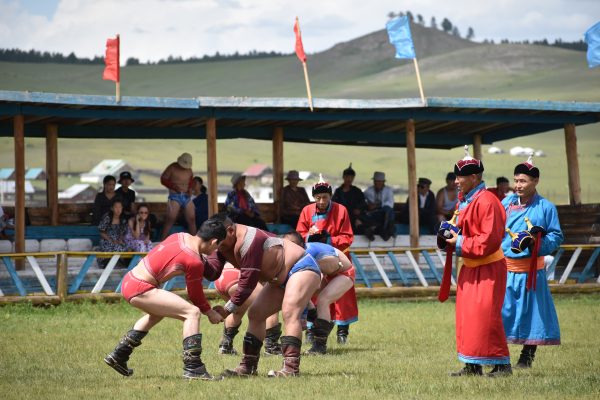 One of the most iconic popular images of Mongolia is that of nomadic herders, on horseback and living in Gers (house-tents in yurts). The other depicts powerfully built Mongolian wrestlers in traditional costume: a red or a blue Zodog (open chest shirt), shuudag (resistant panties), wrestling boots and a pointed Mongolian cap. As nomadism declines, the work of preserving traditional Mongolian culture is being done by the country's wrestling coaches.
At first glance, Ulaanbaatar is not much different from the capitals of other former Soviet satellites. There are coffeeshop chains, private hospitals and a stock exchange, as well as large office buildings that house banks and mining companies. With a population of about 3 million, Mongolia has about 80 universities, including about 10 international university programs in business, computer science and engineering. Within an hour's drive of the city limits, however, the landscape explodes into breathtaking rolling steppes of deeper green, dotted with gers and populated by herding families.
It takes a minimum of 100 to 200 animals to support a family. Historically, Mongol nomads moved four or more times a year, leading their herds to better pastures. Year round, they live in felt gers, burning charcoal to survive temperatures as low as minus 50 degrees Celsius.
In winter, they bring their animals closer to the mountains, to protect them from storms. Water must be collected from wells or rivers, which may be 1.6 km from the camp. In winter, the ice is broken, transported and boiled for drinking water.
A family in a yurt uses 10-20 liters of water a day for drinking, cooking and bathing. The average shower for a city dweller, on the other hand, uses 20 gallons (75 liters).
The day of the shepherds begins at 5 a.m., when the teenagers go in search of the horses that have been released for night grazing. They lead the horses back to the corral and begin the arduous task of milking the mares. To save time between milking cycles and other tasks, the boys fight. Most start wrestling at the age of 5, and boys and girls start riding as early as 3 or 4 years old.
During the annual Naadam festival, the biggest festival in the Mongolian calendar, children of both sexes, as young as 8 years old, ride horses in a point-to-point race of 15 to 30 km.
Herders ride horses, or sometimes motorbikes, for most of the day while guarding and protecting their herds. After years in the saddle, they develop powerful thighs, doubling or tripling the size of city dwellers.
In spring and early summer, most baby animals are born, during a very busy period of two to three months. Then foals and calves need to be watched closely, to make sure they are getting enough nutrition and not becoming food for wolves and other predators.
In summer, dams should be milked, once or twice a day for cows, but up to eight times a day for horses. Before milking the horses, the mares must be haltered, which often involves fighting and pinning them. Some mares are used to the milking cycle, and come out of it calmly. Some fight and must be controlled by three men or boys, so that their feet can be secured. And this process could be multiplied by 40 mares or more, depending on the size of the herd.
In the spring, hair or wool is removed from sheep, goats, camels and yaks. In the fall, the animals are sold or slaughtered for food. Through a combination of selling wool, cashmere, meat, and milk, a subsistence herding family typically earns between $4,000 and $5,000 a year.
A shepherd's life is extremely hard work and the economic gain is small. It's no wonder that over the past 20 years the number of breeders has steadily declined. The number of animals is actually increasing, but that's because large commercial ranches are replacing small ranchers.
At the same time, it seems that pastoral parents recognize the deprivations of nomadic life and send their children to school for the cities. Due to growing parental support for education, the once extremely high dropout rate at age 14 has fallen to 1%. Nationally, the high school graduation rate is 94% for girls and 91% for boys, which is only slightly lower than in the United States, which has a diploma rate of 94.5%.
Rancher families spend years of their income sending their children to college, most of whom do not return. In some surveysup to 100% of parents said they wanted their children to stay in town or go abroad, in search of a better life, rather than return to farming.
The transmission of traditional culture is diminishing, as fewer and fewer parents want their children to become shepherds. However, many still encourage their children to become wrestlers, and thanks to Mongolian wrestling coaches, the country's ancient traditions and culture are being passed on to a new generation.
Byambarenchin Bayaraa, a wrestling coach at the Mongolian National University of Education, explained that wrestling continues to thrive alongside modernization and "Mongols say they will make wrestlers out of their children".
He went on to say that wrestling is in the DNA of the Mongols. This sentiment was supported by Avarga Wrestling Club coach Budeebazar Adiyakhuu, who said, "Mongols have different genes. We still have that Mongolian blood. So we always love to wrestle, fight, wrestle and compete.
Wrestling is part of Mongolian culture, according to Bayaraa, because wrestling is not a team sport. The wrestler, like the nomadic shepherd, is independent. He "doesn't look at his teammates" and doesn't "need to ask anyone for strength or support".
Nine Flags Wrestling Club coach Eruult Suhbaatar points to the strong lineage of wrestling in Mongolian families: "Seventy percent of wrestlers have a family member who is a wrestler, whether it's their grandfather or their father. There is certainly a link with the ancestors.
In addition to believing that wrestling is an important component of Mongolian identity, coaches also use wrestling as a vehicle to pass on traditional culture to young people. According to Eruult, "There are morals that must be taught. Even daily routines, like how to sleep and shower. A coach also teaches them to avoid alcohol, bars and violence.
The relationship between the wrestler and his trainer is very similar to the relationship between a master and an apprentice, according to Bayaraa. "In Mongolia, there is such a discipleship that forms between the coach and the athlete, such a bond…that the wrestler dedicates everything to his teacher: his body, his language, his mind, everything. " In exchange for the dedication of the students, Bayaraa transmits a wisdom transmitted from generation to generation.
The ancestors "are smarter than me because they experienced both happiness and misery before me," he said. "So I have to respect their age and their intelligence."
Zaan Wrestling Club coach Amarbat Togtokhbayar also teaches his wrestlers traditional ethics. "We definitely talk about morals off the wrestling mat because 'only 1 in 200 to 300 kids turn professional.' For this reason, he encourages his students to learn professional skills. "I don't want my students not to have only struggle in their lives, studies must also be taken seriously. Otherwise, they will find themselves in a dead end, without studies and without a profession of struggle.
Today, although fewer young Mongolians are growing up learning the culture and traditional values ​​of herding, many will still receive those lessons from their wrestling coaches. Most will not become professional wrestlers. They will later become traders, accountants or computer scientists. Wrestling will be a fond memory of their formative years, and one that will leave them with a deep appreciation for traditional culture, which they are likely to pass on to their children, thus ensuring the continued existence of Mongolian culture.