From New Mexico to Mongolia: Researchers share ideas, interests in landscape and wildlife restoration | Community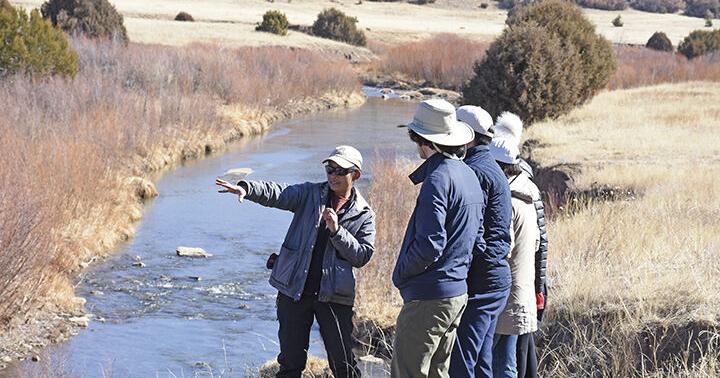 Some 6,500 miles and an ocean separate the Rio Mora National Wildlife Refuge in northern New Mexico and the Ikh Nartiin Chuluu Nature Reserve in Mongolia, known as Ikh Nart. But both are working to restore grasslands and foster better wildlife habitat despite the challenges of climate change.
Staff from the New Mexico Forest and Watershed Restoration Institute (FWRI) joined a years-long effort between the Rio Mora Refuge, the Denver Zoo and Ikh Nart to share ideas and restoration projects.
"The degradation of grasslands in Mongolia due to overgrazing and climate change is a major threat to the persistence of globally important wildlife species and the natural resources needed to support nomadic herding families in Ikh Nart," said Ganchimeg J. Wingard, director of the Mongolia program at the Zoological Foundation of Denver. "Wild animals lack drinking water due to snowless winters, severe summer flooding and erosion, and poor vegetation growth due to harsh weather conditions. Without intervention, the natural water sources of Ikh Nart will continue to be damaged and/or destroyed.
These are similar to the challenges northern New Mexico faces in landscape restoration. In February, two Mongolian professionals visited the Rio Mora National Wildlife Refuge with staff from the US Fish and Wildlife Service, which operates the refuge, zoo and institute to review some of the projects underway to reduce erosion, slow flash floods and restore native vegetation.
"The challenges of climate adaptation cross borders and cultures, and approaches in one semi-arid environment may be relevant to another," said Shantini Ramakrishnan, program manager for conservation and conservation education. FWRI restoration, who explained some of the water erosion projects at Rio Mora to visitors. and worked with herders in Ikh Nart. "Our interest in the conservation and retention of water in the landscape connects our programs. The Ikh Nart Nature Preserve is even drier than northern New Mexico, and collaboration with Mongolian researchers and land managers provides useful insights into their adaptations to an ever-drier climate.
"This relationship is important because it demonstrates the common issues the communities face, even if they are on the other side of the world. It also provides a two-way knowledge exchange," said FWRI Special Programs Manager Joe Zebrowski. Zebrowski, who was part of the Rio Mora tour, was twice invited to Ikh Nart to work on projects.
The Denver Zoo has worked since 1996 with Mongolian experts and communities close to the Ikh Nart reserve. The Denver Zoological Foundation has supported a professional exchange for a decade, most recently with a grant from the Trust for Mutual Understanding. The grant "facilitates travel for a variety of professionals from Mongolia to learn about a holistic program centered on wildlife conservation biology, wildlife veterinary medicine, conservation outreach and education, preservation and conservation of cultural resources and protected area management initiatives," Wingard said.
Wingard added that the professional exchanges "have resulted in strong collaboration, effective cooperation, mutual respect, and remarkable conservation successes."
Rentsen Oyunbat, researcher on Ikh Nart and executive director of the Mongolian Conservation Initiative, and Munkhjargal Luvsangenden, president of the Citizens' Representative Assembly of Airag Soum, the county that encompasses Ikh Nart, said they appreciated the visit to the Rio Mora National Wildlife Refuge.
"My goal when I return to Mongolia in my region is to implement the activities we have learned here," Munkhjargal said.
Zebrowski, who is a geographic information system (GIS) analyst, was invited to Mongolia as part of the Denver Zoo program in 2017 and 2018 to help with GIS training and map development, such as the work that he had done with the Rio Mora refuge. It helps Mongolian professionals map vegetation patches, monitor wildlife, map springs, and launch a GIS database to track research sites in the Ikh Nart Reserve. Some of the wild animals he helps track through GPS collars are Argali sheep, ibex, Mongolian gazelle and goiter gazelle.
Students at the University of the Highlands of New Mexico have used Ikh Nart data for class projects and a graduate student is writing her thesis on Mongolian gazelle habitat.
Zebrowski also helps reserve staff survey Cinereous vulture nests. "Cinereous vultures are among the largest flying birds in the world, with a wingspan that can exceed nine feet. They have an important nesting site in the Ikh Nart Nature Reserve and are considered Near Threatened in the wild according to the IUCN (International Union for Conservation of Nature) Red List," he said. he declares.
He said he hopes to continue working on projects at Ikh Nart. "I learned that although our cultures are very different, we share the same appreciation for nature and the same desire to protect and manage our lands for future generations," he said. "I was also introduced to the vibrant and very interesting culture of Mongolia."
The relationship between the staff of Ikh Nart, Denver Zoo, FWRI and Rio Mora National Wildlife Refuge is an example of how shared interests in healthy landscapes and helping wildlife can bring people together. 'A world apart.
The New Mexico Forest and Watershed Restoration Institute is one of three Southwestern research institutes established by Congress in 2004. FWRI provides technical assistance in GIS mapping, vegetation treatment and monitoring, conservation education, and collaboration with New Mexico communities, land managers and governments. .