Keeping the green on Mongolia's only golf course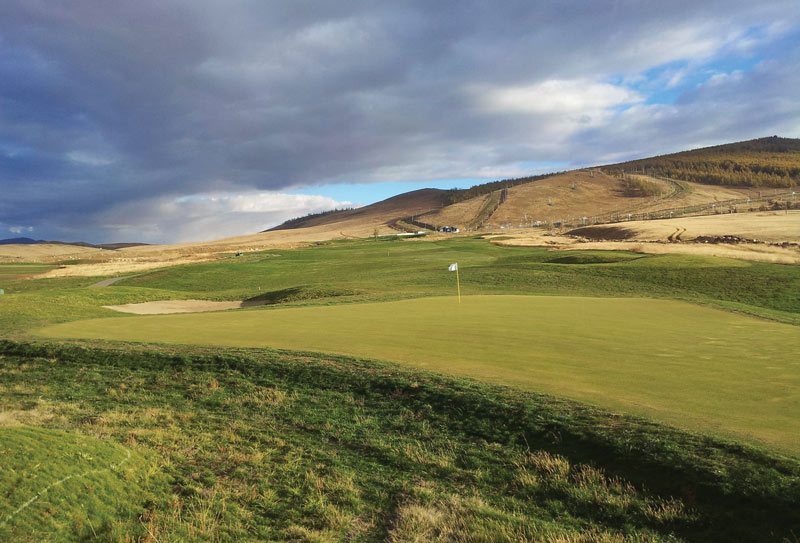 Mount Bogd Golf & Country Club is home to the only all-grass golf course of international standard in Mongolia. The greens are T-1 creeping bentgrass, known as "the indulgent bend". Photo courtesy of Jason Chennault
---
If ever there were to be a GCSAA affiliated chapter in Mongolia, its meetings would be quite lonely.
In all of Mongolia – the 19th largest country in the world by land area, but the 100th and changing (depending on who's doing the count) by population, making it the world's least populous sovereign nation – there is no There is only one real grass golf course of international standard. Supervising this solitary course is Ariunbold Damba, a 38-year-old married father of three and proud GCSAA cardholder.
But Damba is quick to add a caveat to his claim to be the association's only member in the country sandwiched between Russia and China: "Yet!"
Damba, in his first year of his second GCSAA membership (he belonged for a few years from 2012 but let his membership expire), served as superintendent at Mount Bogd Golf & Country Club in Ulaanbaatar, Mongolia, since 2012. Holding a superintendent's certificate from Rutgers University, Damba has worked for Sky Resort Co. – the owner of Mount Bogd – since 2008 and has been on the course since construction began.
No easy culture
"It's an absolute challenge to maintain golf grass in a country where the winter temperature drops as low as minus 22 to minus 33 at night," says Damba, whose course sits at the foot of Mount Bogd at a elevation of 4,265 feet, about 8 miles southeast of the Mongolian capital of Ulaanbaatar. "One of the many superintendents (visitors) of the United States once said to me, 'If a weed survives a Mongolian winter, it will survive everywhere else on the globe.' I remember that from time to time."
Chances are Damba will call him back every spring. He says the golf season generally runs from early May to mid-October. "When to open and when to close is the decision made by Mother Nature," he says. "We are just following. »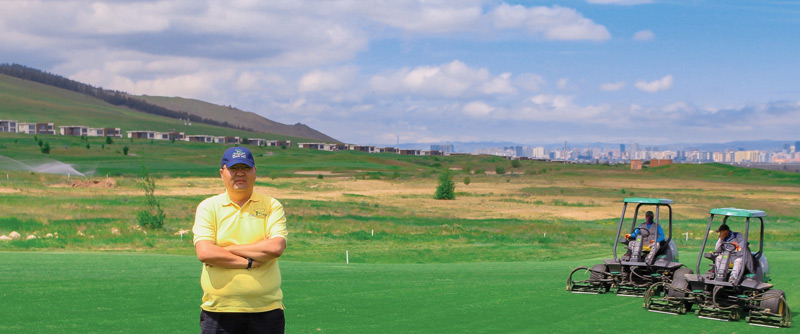 Ariunbold Damba has been the superintendent of Mount Bogd Golf & Country Club since 2012. During the off-season the resort welcomes skiers and Damba's role transitions to director of ski operations. Photo courtesy of Ariunbold Damba
---
Ulaanbaatar bills itself as the coldest capital in the world, and with good reason. Its average annual temperature is below freezing: 27.7 F (minus 2.4 C). Reykjavik, Iceland is a relatively mild temperature of 39.7 F (4.3 C). Due to the climate and lack of established golf courses, the staff at Mount Bogd have gone through a lot of trial and error.
"We watched. We tried different methods. We did a lot to adapt our weed to the local climate," says Damba. "But one thing I always say: never say 100%. done as needed, Mother Nature always has the last word. I can never promise my boss 100% survival. That's the bitter truth here in Mongolia.
The other side of this truth, however, is that Mongolia's harsh winters contribute to accentuate its summers.
"We have a few advantages of being a golf course in Mongolia compared to those in Southeast Asia," says Damba. "The most important advantage is my number one worst enemy: the weather. The enemy in the winter camouflages itself into a blessing hand in the summer. Summer in Mongolia is heavenly – crisp, fresh air.
19 minutes of summer
Jason Chennault certainly knows all the challenges of trying to maintain Mongolia's only golf course. He was involved in its growth for about a year and helped train Damba and Damba staff.
"The biggest challenge for Ulaanbaatar is that the temperatures just aren't very hot for very long," says Chennault, a globetrotting GCSAA Class A superintendent who has been a member of the association for 23 years. "I used to joke that summer in Mongolia lasts 19 minutes. In June, the year I was there, I woke up to minus 15 degrees Celsius and it was scheduled to open in July It's also incredibly dry air. It was pretty cold, but there's hardly any snow — not enough humidity.
Chennault says one winter he was in Ulaanbaatar it hit minus 43 C (minus 45 F), and he states on his resume that he managed turf internationally in minus 43 conditions. C to 48 C (118 F). He wasn't accused solely of growing up on the Mount Bogd golf course; he was challenged to train the on-site staff who would maintain him once he was gone, and Damba – whom Chennault refers to as "Booyo", the colloquial form of his official name, Ariunbold – was among the few to have formal training. In addition to his Rutgers education, Damba had also worked on a few golf courses in Missouri before returning to his native Mongolia.

Ariunbold Damba, left, and Jason Chennault during the debut of Mount Bogd Golf & Country Club. Photo courtesy of Jason Chennault
---
"Staff were working on the very first all-grass golf course in the country," says Chennault. "The staff received a lot of training as Booyo and I are quite hands-on. Booyo is a quick learner. He is also a hard worker. Even though he hadn't taken or worked on a course at the level we wanted reaching to Mount Bogd, being on the ground with them working daily side by side with them, we all learned how we were going to make it with what we had to work with.
"From how to approach the greens – you know, park the vehicle and trailer some days entirely on the grass and other days just off the cart path – to learn more about the line/direction of play and how it can help understand mowing directions why change mowing directions… I mean it's teaching people who have never seen a golf course the game and how what we do has a impact on day-to-day play. It's a task, but I love it.
Editor's Note: Tony Taylor, CGCS, who made the career leap to the Asian golf market over 20 years ago, shares management lessons learned from a different perspective in A Golf Course Superintendent at the stranger.
Mount Bogd was designed by Santa Rosa, Calif.-based Golfplan in 2008, and construction began that year. The process was hampered by weather conditions, of course, as well as rocks and the lack of good accessible topsoil.
"The lack of a sand cover and, bigger problem, the lack of large amounts of clean topsoil meant hard fairways that if or when you air out you'll have to accept that rocks are a part of life", explains Chennault. "Unfortunately we were finding rocks just mowing, and as we descended we were more prone to finding the edges of the rocks. It's hard on reels and counter blades.
Prior to design, Sky Resort hired Mongolian botanist Bayasgalan Luvsandorj in 2008 to set up grass variety trials. She reduced her initial list from 70 to 20 for the field trial. Half of them were almost immediately expelled. Greens and tee boxes are currently made of T-1 creeping bentgrass ("the forgiving bend"), and the fairways are made of annual bluegrass.
"These professional, brand name grasses blend in with the natural fescues of our unmaintained hilly areas," says Damba, "creating a beautiful contrast. It's an absolutely stunning sight from June through August and September."
"I can't say there is a more difficult place"
Golfplan manager David Dale is biased, of course, but he, too, rather likes the look of the place.
"When you drive, you wonder where the golf course is," he says. "When we built the course, we cut into the terrain. There are strong winds, so we wanted to lay the golf course in the ground to be able to protect the players. You are in the Gobi Desert. You think, 'Wow, I'm between the dunes.' But you are not. You are in low zones that we have created. It looks like a simple plain, smooth, gentle roll with a slight slope. It's so much fun to walk. It is really awesome.
Dale recalls that it took almost three years to complete the course. Chennault thinks that's a conservative view.
"My fondest memory or feeling, really, was that sometimes no matter what we tried, we couldn't deliver what they wanted, when they wanted it," Chennault says. "I said to (turf researcher) Mike Healy, and I know it's true, it's a five-year growth, and even then the five years is for the original seedlings. It's a seeding and reseeding process that I think will never end, and protecting what you have each year is paramount.
"I can't say there's been a tougher place. I have been many places. Some were tough, but not quite Mongolia. There is nothing I can imagine that is so difficult.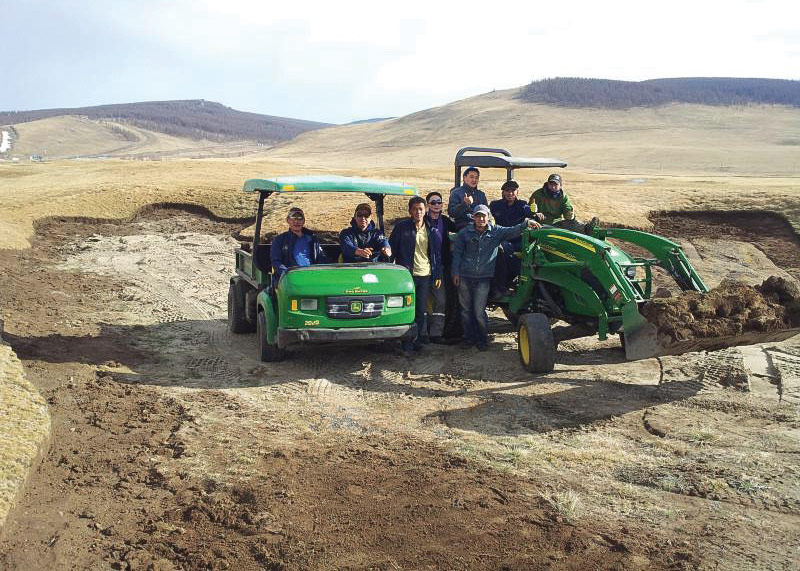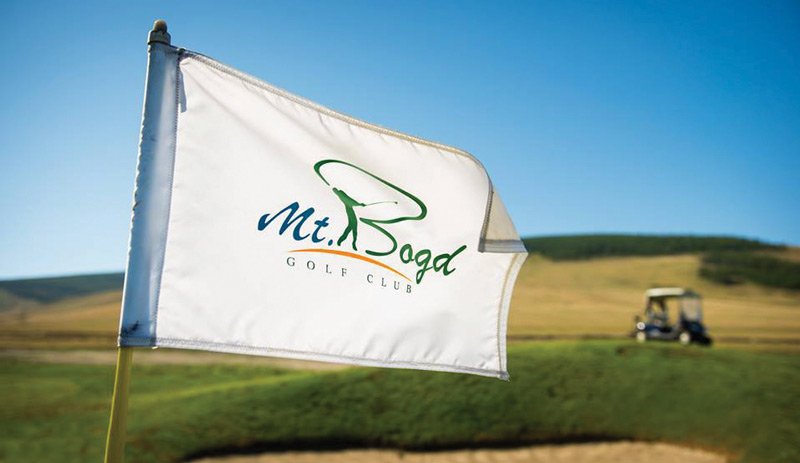 Construction began on the Mount Bogd golf course in 2008, and the course was played in 2011. But winter killed that offseason, and the following offseason required reseeding, which delayed the official opening. . Photos courtesy of Jason Chennault
---
Damba oversees a team of around 150 golf workers. They don't take advantage of the brutal off-season, as Sky Resort also has the country's first and only "international standard" ski resort.
"My golf employees switch to the ski operation during the winter season," Damba explains. "Me too. I'm becoming director of ski operations."
Damba says the course opened for the season in early May this year. Like the rest of the world, it has been impacted by the coronavirus pandemic.
"Winter survival of the grass was nice," he says. "We went through two weeks of confinement, during which my workers used to camp at the golf course site to take care of the spring irrigation. But now local golfers enjoy playing on a real course, after a few months of simulator play. Last winter, no golfer, no one, was allowed to go overseas. Usually during the winter, active Mongolian golfers travel to warm countries to play golf, but not the last. The hope is that the number of our golf tourists will catch up again.
"We used to have an increased number of golf tourists from Korea, China and Japan. Word-of-mouth advertising from Koreans was doubling the number of Korean golfers coming each year before the pandemic. You may not know how terribly hot, sticky and heavy the air is in Southeast Asian countries in June, July and August. But in Mongolia, it's natural air conditioning by fresh air, not by Freon AC. Also, since Mongolia is at high altitude, the golf ball just flies due to the thin air. Golfers love it.
---
Andrew Hartsock is CWMeditor of.