Mongolia and Australia celebrate 50 years of diplomatic relations – The Diplomat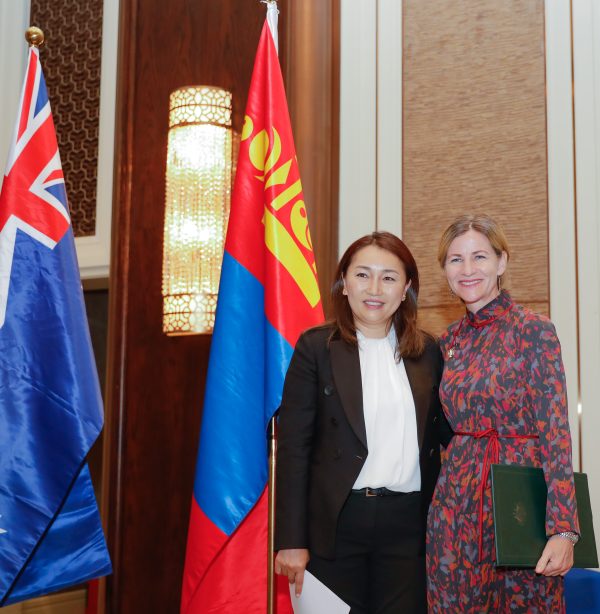 This year marks the 50th anniversary of the establishment of diplomatic relations between Mongolia and Australia. In recognition of this milestone, both governments have organized a variety of activities celebrating the past and present and looking forward to the next 50 successful years.
To commemorate the anniversary, Canberra alight two historical buildings, the National Carillion and the Old Parliament, in the colors of the Mongolian national flag.
In Ulaanbaatar, the Minister of Foreign Affairs of Mongolia, Battsetseg Batmunkh, received the Australian Ambassador to Mongolia, Katie Smith. During the meeting, the two sides reiterated the past 50 years of diplomatic relations and ongoing bilateral projects such as education, economy, mining, agriculture and defense.
The Australian Embassy in Mongolia also hosted a celebratory evening with parliamentarians, foreign ministry officials and members of civil society. Our relationship is thriving and we look forward to the next 50 years! » Smith said.
Mongolia and Australia established diplomatic relations on September 15, 1972. In line with longtime leader Tsedenbal Yumjaag's foreign policy agenda, Mongolia has sought to establish diplomatic relations with countries beyond Russia and China, the only two direct neighbors of Mongolia. Australia, although geographically distant from Mongolia, is similar in its landscape and rich natural resources, and Mongolia had much to learn from its experience.
Shortly after Mongolia's democratic revolution in 1991, the two nations exchanged high-level visits. It was an attempt by the Australian government to test the waters. During the early to mid-1990s, Mongolia's foreign policy was closely tied to the country's needs for economic aid and political reform. By strengthening bilateral relations with developed democratic countries, Mongolia acquired knowledge that it could apply to its constitutional reform and its new market economy. From Australia, Mongolia took a particular interest in the management of natural resources and requested technical assistance to activate its mining sector.
In 1997, Mongolia's first democratically elected president, Ochirbat Punsalmaa, became the first president to visit Australia. However, despite Ochirbat's efforts to activate what Tsedenbal had started 25 years earlier, Canberra did not open an embassy in Mongolia until 2015. Instead, Australian embassies in Moscow, Beijing and Seoul served as a liaison at various times.
For its part, in 2007, Mongolia recognized Australia as a "third neighbour". A year later, Mongolia opened its embassy in Canberra and Jambaldorj Tserendorj was appointed ambassador.
The opening of the embassy was attributed to the auspicious efforts of previous high-level visits and bilateral dialogues. Official visits to Australia by Foreign Minister Gombosuren Tserenpil in 1993, President Ochirbat in 1997 and Speaker of Parliament Nyamdorj Tsend in 2007 played an important role in encouraging Canberra to recognize Ulaanbaatar as a possible partner. Sukhbaatar Batbold became the first Mongolian prime minister to visit Australia in 2011.
Canberra also began sending officials in the 1990s. In 1994 Governor General Bill Hayden visited Mongolia with Foreign Secretary Gareth Evans. Between 2005 and 2007, senior Australian officials, including Foreign Minister Alexander Downer, visited Mongolia seeking business partnerships in tourism and resource management.
In 2011, Austrade was established in Ulaanbaatar, which later became Australia's consular centre. In December 2015, then Foreign Minister Julia Bishop announcement the opening of the Australian Embassy in Ulaanbaatar, and John Langtry became the first resident ambassador. Prior to his appointment, Langtry oversaw the North Asia Division at Australia's Department of Foreign Affairs and Trade (DFAT).
Langtry told The Diplomat: "One of the main reasons the Australian government decided to establish an embassy in Ulaanbaatar in 2015 was that we realized Mongolia was a democratic partner with a shared commitment to of an open economy located in a very difficult geopolitical environment.
He noted that the same logic still holds true today. "The fallout from the Russian invasion of Ukraine certainly did not help Mongolia's position," Langtry said. "However, I know that Mongolia's efforts to strengthen its relationship with the 'third neighbours' in these difficult times are well understood and welcomed in Australia."
Australia, even before opening its embassy in Ulaanbaatar, had prioritized strengthening Mongolia's human capital by expanding access to higher education. Given Mongolia's young population – the median age is 28 – education has been a key aspect of Australia's bilateral relationship with Mongolia. The Mongolia-Australia society, known as the Mozzies, has become a bridge for education, cultural exchange and interpersonal relationships.
According to DFAT, since 1994, "more than 600 Australian scholarships have been awarded to Mongolians to study in Australia". As a result, the number of Mongolian students studying at Australian institutions has increased significantly. In 2019, just before the pandemic hit and ended many study abroad opportunities, the Mongolian Embassy in Australia estimated that more than 6,000 Mongolians were studying in Australia.
In recognition of Australia's contribution to the education sector in Mongolia, the Secretary of State for the Ministry of Foreign Affairs of Mongolia, Ankhbayar Nyamdorj, visited the Australian National University (ANU) in March. UNA has been an important element in building Mongolia's human capital and has become a popular destination for Mongolian students.
Beyond educational links, since 2003, the Initiated by Australia The Direct Aid Program has assisted over 100 organizations and to date has implemented over 130 projects in Mongolia aimed at alleviating poverty, health and youth issues. The 2022-2023 Direct Aid Program selected 13 organizations in Mongolia to receive grants, such as the National Center for Maternal and Child Health, the National Institute for Disaster Management, the National Center Against Violence, the NGO Little Scientists and others.
In 2015, Mongolia and Australia launched a joint initiative known as the Australia-Mongolia Extractive Industries Program (AMEP) to help Mongolia develop its resource-based economy. Between 2015 and 2019, the joint program completed its initial phase, which covered improving the investment environment in Mongolia by providing incentives to governments, civil society and the private sector. AMEP is still active today and host "Mongolia Mining 2022: International Mining and Oil Expo" from September 21 to 23 in Ulaanbaatar.
Beyond cooperation in the education and mining sectors, Mongolia and Australia have participated in peacekeeping missions in Kosovo and Sierra Leone. Australia is also active in the annual international peacekeeping exercise Khaan Quest in Mongolia.
The past 50 years have shown the opportunities and the challenges of Australia-Mongolia relations. Numerous difficulties and certain geopolitical nuances prevented Canberra from recognizing Mongolia as a potential partner for most of this period. In retrospect, Mongolia's recognition of Australia as a 'third neighbour' was the ultimate push for Canberra to see it through a different lens.
"In this respect, I am delighted to see the pace of high-level visits accelerating, in particular with the [Prime] Minister Amarsaikhan recently visited Canberra to celebrate the 50th anniversary of diplomatic relations," Langtry told The Diplomat.