Mongolia opposes interference in China's internal affairs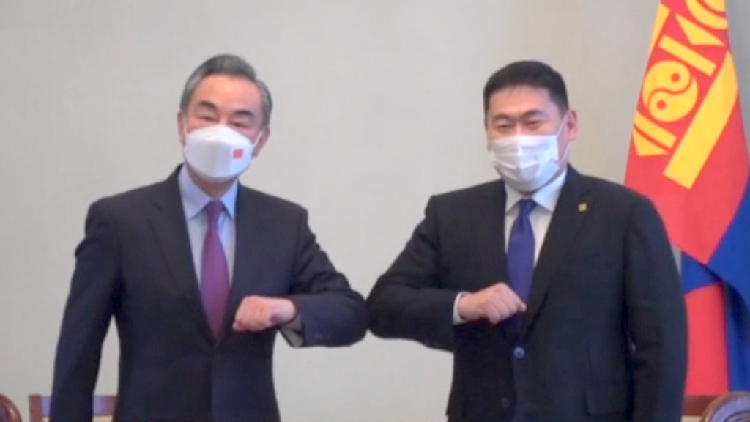 Mongolia is committed to the one-China principle and opposes foreign interference in China's internal affairs, such as Taiwan region, Tibet, Xinjiang and Hong Kong, Mongolian President Ukhnaa said Monday. Khurelsukh during a meeting with Chinese State Councilor and Foreign Minister Wang Yi. .
Mongolia is ready to elevate its comprehensive strategic partnership with China to a new level, he added.
Khurelsukh appreciated that China shares development opportunities with its neighbors and hopes to deepen cooperation in various fields, such as economy and trade, ports, infrastructure and sand control.
Mongolia commends China's COVID-19 prevention approach and thanks China for providing vaccines and COVID-19 prevention supplies, the president said, adding that Mongolia appreciates the importance of the Development Initiative and the Global Security Initiative and appreciated China's positive contribution to safeguarding the United Nations Charter. .
China will continue to provide anti-COVID-19 supplies as needed and aims to build a China-Mongolia community with a shared future, Wang said. China is willing to help Mongolia turn its resources and geopolitical advantages into development advantages, he added.
Wang also met with his Mongolian counterpart Batmunkh Battsetseg on Monday. Battsetseg said the main direction of Mongolia's foreign policy is to consolidate and develop relations with China.
China will continue to promote the Belt and Road Initiative and the Steppe Road program to deepen comprehensive cooperation, Wang said.
The two sides agreed to strengthen diplomatic contacts as well as economic and trade cooperation. The two sides will ensure the safe and stable operation of ports and improve the volume of goods and the efficiency of customs clearance.
The two sides will actively cooperate in sand control, and China will strive to plant 70 billion trees in 10 years to build a living community for people and nature.
After the meeting, the two sides signed documents on cooperation and witnessed the signing of cooperation documents on railway ports, sanitation and quarantine.
Gombojav Zandanshatar, chairman of the state Great Khural, which is Mongolia's parliament, also met Wang on Monday and called for enhanced interaction between the two countries' legislative bodies.
Earlier on Sunday, Mongolian Prime Minister Luvsannamsrai Oyun-Erdene said his country sees China as a good neighbor "not to be traded for gold" during a meeting with Wang in the Mongolian capital, Ulan. bator.
China is a responsible major country, representing the future of Asia, and its development is in the common interests of Asian countries, Oyun-Erdene said. The Mongolian side supports China's continued development and growth and aspires to achieve common development and prosperity with it, he added.
Oyun-Erdene said the independence, sovereignty, territorial integrity and development path of all countries should be respected. Wang said China appreciates Mongolia's adherence to the one-China principle and support for China to safeguard its core interests.
China also respects Mongolia's independence, sovereignty and territorial integrity and supports the country in choosing a development path consistent with its own national conditions and the wishes of its people, and supports its stable governance and its development priority, Wang said.