Mongolia seizes the diplomatic moment – ​​The Diplomat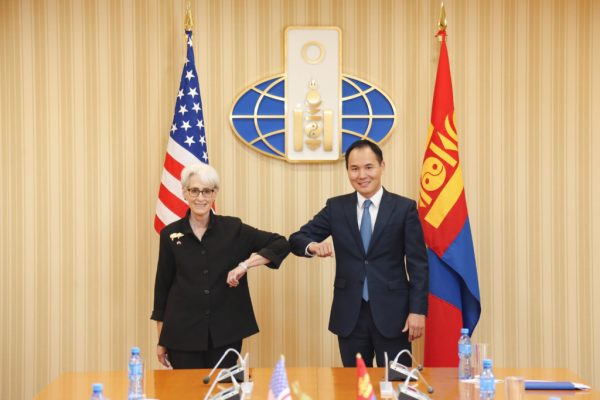 Mongolian diplomacy is living for a moment. In just five days, Mongolian officials held high-level talks with China, Japan, South Korea and the United States. Mongolia is one of many countries in the region that carefully avoids choosing sides in the Sino-American standoff, while seeking to maximize its gains from all sides.
The current diplomatic round began with the visit of US Under Secretary of State Wendy Sherman, who was in Ulaanbaatar from From July 23 to 25. According to the US State Department, Sherman "stressed the importance of the strategic partnership between the United States and Mongolia and discussed ways to strengthen Mongolia's democratic institutions, strengthen its sovereignty, and diversify its economy." . She demonstrated the United States' focus on human rights during a visit to an LGBT center in Mongolia and visited the Choijin Lama Temple Museum to learn "about preserving Mongolian culture." , religious sites with traditional Mongolian script". The latter served as a subtle dig for China, which is accused of eroding Mongolian culture and language across the border in Inner Mongolia, but overall Mongolia has been careful to avoid d adopt the American slogans that have earned China's ire.
This does not mean that Ulaanbaatar has been reluctant to embrace its partnership with Washington. According to the reading of Mongolian Ministry of Foreign Affairs"The visit of a high-level delegation from the United States – Mongolia's "third neighbour" and strategic partner – is important to consolidate the strategic partnership between Mongolia and the United States and to strengthen the friendly relations between our two countries." However, it is clear that Mongolia's long-term priorities for the relationship are economic rather than strategic. The main takeaway from Mongolia was that "both sides have expressed their commitment to increasing trade and economic cooperation."
Sometimes, however, the line between economic and strategic is decidedly blurred. Mongolia and the United States also agreed to "collaborate in the implementation of the MCC's second compact", which would involve a grant from the United States. In several other countries, such as Nepal and Sri Lanka, grants from the United States' Millennium Challenge Corporation (MCC) have drawn controversy for allegedly antagonizing China. Mongolia, however, did not hesitate to signature and implementation of a second pact.
Even as Sherman was in Ulaanbaatar, Mongolian Prime Minister Oyun-Erdene Luvsannamsrai was in Japan July 21-25 for a working visit related to his participation in the opening ceremony of the Tokyo Olympics. Oyun-Erdene was one of the few foreign rulers to attend the pared down festivities. According to MontsameMongolian News Agency said it was the first meeting between the Japanese and Mongolian prime ministers in two years.
During the meeting with Japanese Prime Minister Suga Yoshihide, "Oyun-Erdene confirmed Mongolia's willingness to develop strategic partnership and cooperation with Japan, a third neighbor of Mongolia, in all possible fields", said reported Montsame.
Here again, Mongolia has kept the focus on economic issues and the management of the pandemic, as evidenced by the list of personalities met by Oyun-Erdene, including Nishimura Yasutoshi, Japanese Minister in charge of Economic Recovery and the Trans-Pacific Partnership, and Wakita Takaji, director of the Japanese National Institute of Infectious Diseases. During the visit, Japan and Mongolia "agreed on the need to elevate economic, trade and investment cooperation to the next level" and discussed specific economic cooperation projects, including the new Istanbul International Airport. Ulaanbaatar in Mongolia, a highway project around Ulaanbaatar, the Bogdkhan Railway Projectand others.
It was Japan, not Mongolia, that drew attention to more strategic issues after the meeting. According to Kyodo News in Japan"During Suga's meeting with Oyun-Erdene, the two men agreed that Japan and Mongolia would cooperate to achieve a free and open Indo-Pacific and would continue to work towards the immediate resolution of the abductions of Japanese nationals by South Korea. North in the 1970s and 1980s."
After leaving Japan, Oyen-Erdene headed for South Korea, where he met Prime Minister Kim Boo-kyum, the director of South Korea's Export-Import Bank, and "representatives of infrastructure investment companies". However, he and Kim also spoke of deepening cooperation "in peace and security in Northeast Asia", a nod to Mongolia's envisioned role as a mediator on the Korea issue. North.
Meanwhile, Mongolian Foreign Minister Battsetseg Batmunkh visited Tianjin, China on July 27 – the same city that had hosted Sherman for talks days earlier. Battsetseg met his Chinese counterpart, Wang Yi, who tell him that "China has always placed its relations with Mongolia in an important position in its neighborhood diplomacy and welcomed the top priority given by Mongolia to the development of relations with China in its foreign policy".
"China will help Mongolia accelerate its development to the best of its ability and stands ready to strengthen cooperation with Mongolia in the fields of mining, energy, finance, agriculture, animal husbandry and infrastructure construction," Wang said. The two sides have set a goal to increase bilateral trade volume to 10 billion U.S. dollars and "prioritize" the launch of "flagship projects" for the Belt and Road Initiative in Mongolia. Battsetseg and Wang too agreed to "accelerating the alignment of the Belt and Road Initiative with the Mongolian Steppe Road Program."
Battsetseg had attended China's "Asia-Pacific High-Level Conference on Belt and Road Cooperation" in June, where it also reiterated Mongolia's willingness to cooperate with the BRI.
Once again, it was not Mongolia that highlighted the strategic side of the exchange. reading china stressed that the two countries "will insist on mutual respect for each other's independence, sovereignty and territorial integrity, respect for each other's chosen path of development and respect for the fundamental interests and major concerns of the other". From the Chinese perspective, this amounts to a promise by Mongolia not to join the US-led chorus criticizing China for human rights abuses or its actions in the South China Sea and the Taiwan Strait.
Meanwhile, Chinese Defense Minister Wei Fenghe visited Mongolia on July 26, where he and Defense Minister Saikhanbayar Gursed "discussed cooperation between the two countries in defence, international and regional security and other issues of common concern." The two defense ministers "expressed their willingness to cooperate closely to continue cooperation through the organization of visits, exchanges and consultative meetings on defense and security of defense officials at all levels, and d 'joint exercises when the COVID-19 pandemic subsides'.
Wei's visit to Ulaanbaatar is particularly striking given the focus on economy, investment and pandemic management in Mongolia's trade with the United States, Japan and South Korea. South. China may be trying to beef up a bit as US Defense Secretary Lloyd Austin travels elsewhere in the region.
But don't take this as evidence that Mongolia is somehow siding with China. Ulaanbaatar wants to develop its economy, which will necessarily involve taking advantage of its proximity to China (and the BRI). However, Mongolia also fears becoming too dependent on its big neighbor and wants to safeguard its democracy and sovereignty. Its active outreach to "third neighbours" like the United States, Japan and South Korea is proof that Mongolia does not want to put all its eggs in China's basket.
From Mongolia's perspective, the goal is to make the most of its multi-faceted foreign policy, just as it did at the height of the pandemic in its shrewd purchase of vaccines. With more than 60% of its population fully immunized, the country is a positive outlier for the developing world, and that's largely down to its ability to attract partners from all sides to help deliver vaccines. Mongolia has purchased vaccines from its neighbors China and Russia, but has also received Western vaccine donations from AstraZeneca and Pfizer and additional financial support from the United States for good measure. It is worth noting that Mongolian officials were able to thank the United States, Japan, South Korea and China for their help in the fight against the COVID-19 pandemic.