Mongolian military diplomacy spotlights women peacekeepers – The Diplomat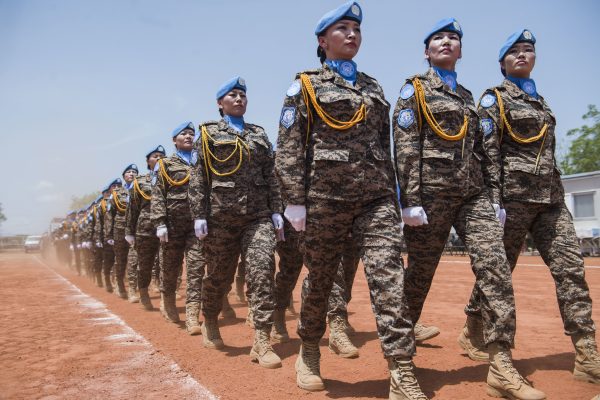 This year marks the 20 anniversary of Mongolia's first deployment with a United Nations peacekeeping mission. In a semi-celebratory move, the President of Mongolia, Khurelsukh Ukhnaa, launched Mongolia's first-ever international conference in support of UN Security Council Resolution 1325, "Women, Peace and Security ", which "urges all actors to increase the participation of women and integrate a gender perspective into all United Nations peace and security efforts. While the conference was a salute to all female peacekeepers, this was also a brilliant moment for Mongolian military diplomacy.
In 2002, the Mongolian parliament passed a law allowing the army to deploy soldiers in international coalition operations. As a result, Mongolia first sent two separate unarmed military observers to UN missions, one in the Democratic Republic of the Congo and the other in Western Sahara, in 2002. Since then, the Mongolian military has deployed troops, military police, and humanitarian and medical personnel to countries such as Sierra Leone, Liberia, Kosovo, Sudan, Iraq and Afghanistan.
In 2019, the UN officially recognized Mongolia's contribution to humanitarian assistance, security and medical services in areas of the world that desperately need additional support.
While Mongolia's foreign policy pursues a multi-pillared approach, active participation in peacekeeping missions strengthens the country's military diplomacy with multilateral organizations and ministries of defense around the world.
During the UN Peacekeeping Ministerial Meeting in Seoul in 2021, Mongolia pledged to establish a peace operations research center, increase the number of female peacekeepers in UN missions, host an international conference and equip units with peacekeeping capabilities. 'renewable energy.
The 2022 "Women, Peace and Security" conference brought together female peacekeepers from 30 countries, including Mongolia, and 60 international representatives and researchers and scholars from European Union and UN peacekeeping missions . At the conference, UN Under-Secretary-General for Peace Operations Jean-Pierre Lacroix thanked all female peacekeepers and underscored Mongolia's unwavering support for United Nations peacekeeping operations over the past 20 years.
The conference aimed to support the implementation of United Nations Security Council Resolution 1325, adopted in 2000. The main objective of the conference was to create an environment for female peacekeepers to share their experiences, ideas and their challenges.
Mongolia's first female Brigadier General, Bolor Ganbold, who has served several times in UN missions, stressed the importance of limiting the gender disparity in the Mongolian army as well as in the missions of UN peacekeeping. In response to the General's perspective and in accordance with the objectives of the United Nations, Khurelsukh promised increase the number of female Mongolian peacekeepers to 15% of the country's military contingent by 2027. Although the UN quota remains far from being achievedthe presidential commitment to achieving this objective must be recognized.
Like Khurelsukh declared, "Mongolia has sent more than 20,000 military personnel to United Nations peacekeeping operations and international military operations, and more than 900 of them are women. Mongolia ranked 20th in the number of female peacekeepers among UN troop-contributing countries. According Friedrich Ebert Stiftung and the Mongolian Institute for Innovative Policies, Mongolian women peacekeepers mainly participate in the United Nations Mission in South Sudan (38% of all female PKOs in Mongolia) and the United Nations Mission in Liberia (27%).
Mongolia's contribution to peacekeeping missions embodies the country's commitment to global security and humanitarian assistance. As the Mongolian government continues to support multilateral efforts to defuse hostile situations and ensure the protection and security of vulnerable people, the country's military diplomacy is diversifying and strengthening at the bilateral and multilateral level.
France, also a major contributor to UN peacekeeping, recognized Mongolia's efforts. France's Ambassador to Mongolia, Sébastien Surun, who participated in the "Women, Peace and Security" conference, said: "France is proud to be a partner of Mongolia at the international level. It is fair to recognize the contributions of the Mongolian peacekeeper woman as part of Mongolia's commitment to United Nations peacekeeping missions.
Mongolia's global partners supported Mongolia's initiative to include more women in peacekeeping and the military.
The United States has been the largest support system for Mongolia's participation in peacekeeping missions. In recent years, the United States has provided training and support to female military personnel. In 2019, 23 women from Mongolia registered as part of the Women's Mentorship Program with the US Army, hosted by the United States Indo-Pacific Command and US Army Pacific during Exercise Gobi Wolf.
From a foreign policy perspective, the multifaceted and multidimensional aspect of UN peacekeeping operations is a strength of engagement for Mongolian military diplomacy. The activities in which Mongolia engages, including but not limited to United Nations peacekeeping, international Five Hills training or its traditional military field training with its neighbors, strengthen the relationship of Mongolia with multilateral organizations and Ministries of Defence.