Rio Tinto and Mongolia pave way for $10 billion mine expansion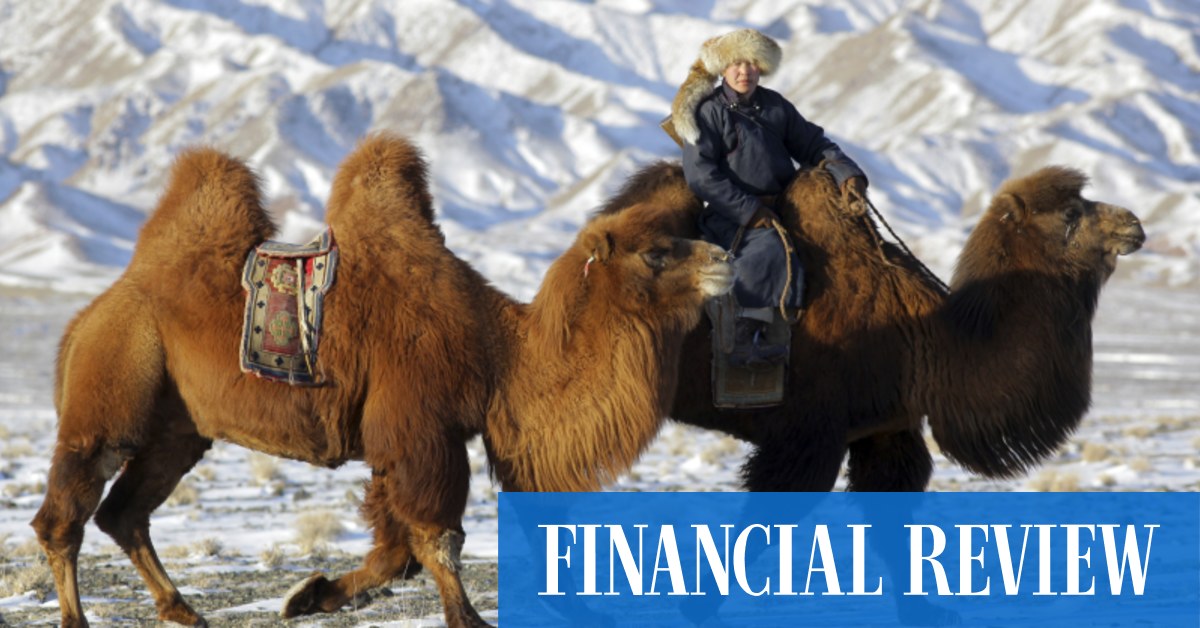 Some of these disputes, particularly in tax matters, remain unresolved.
But Rio said on Tuesday that enough common ground had been found for the undercut to begin in the "next few days".
Sustainable production of copper and other metals will now take place in the first half of 2023, putting Oyu Tolgoi on track to become one of the top five copper producers in the world by 2030.
Stability and peace in relations between Rio and the Mongolian government have only ever been achieved temporarily, but if Tuesday's settlement can hold in the longer term, it will be a coup for new chief executive Jakob Stausholm and its Mongolian-born brass chief Bold Baatar.
"This agreement represents a reset of our relationship and resolves historic issues between the Oyu Tolgoi project partners," Stausholm said Tuesday.
"It's a huge step forward, it started a year ago when I appointed Bold to manage the copper portfolio and it took a lot of effort."
Speaking from the Mongolian capital of Ulaanbaatar before traveling to the mine site on Tuesday, Stausholm confirmed that some disputes with the government remained unresolved.
"We have some small issues that we, with a relationship reset, will resolve for sure," he said.
"We still have an outstanding tax dispute which I think we will resolve later this year.
"All conditions for starting the mine have been resolved, we have a way forward on electricity and we don't need to build a coal-fired power plant, this is a huge achievement in my opinion"
Complex property
Rio has mined copper, gold and silver from a small surface mine at Oyu Tolgoi – located in the remote southern Gobi desert – since 2011, but the priority has always been to unlock the huge resource thanks to a massive underground expansion of the mine.
A Mongolian company called Oyu Tolgoi LLC owns 100% of the mine, and that company is 66% owned by Toronto-listed Turquoise Hill and 34% owned by the Mongolian government.
Rio's exposure to the mine comes from its 50.79% stake in Turquoise Hill, and Rio's strength has been bolstered by being the lead financier and technical manager of the expansion project.
Relations between Rio and the Mongolian government have always been rocky; Oyu Tolgoi is Mongolia's largest private sector employer, the largest source of foreign investment and the leading indicator of investor sentiment towards the developing nation.
These facts made Oyu Tolgoi political football in Mongolia at the best of times, and relations with the government soured when Rio's handling of the expansion project resulted in massive cost and schedule blowouts before the onset of the pandemic does not exacerbate these outbreaks.
The eruptions were painful for the Mongolian government, which had to hoard more money to fund its 34% share of construction costs and wait longer for dividends from the mine to start flowing.
The Mongolian government wanted Rio, as the project manager who oversaw the eruptions, to bear the brunt of those costs, and the two sides have effectively been at an impasse over the issue since mid-2019.
Tuesday's agreement to forgive the Mongolian government's debt resolved those tensions.
The debt waiver was long anticipated but unenthusiastic by some Turquoise Hill minority shareholders.
Pentwater Capital has been Turquoise Hill's second largest shareholder in recent years and has previously suggested that Rio – as manager of the cost explosion – should provide financial compensation to the Mongolian government, rather than Turquoise Hill.
Pentwater spokesman Matt Halbower said Tuesday's deal confirmed his company's fears that Mongolian government debt will be written off by Turquoise Hill, meaning minority shareholders will be hit as well as Rio. .
"It was Rio Tinto's concealment of cost overruns and schedule delays that necessitated the extensive compensation package provided to the Mongolian government. Turquoise Hill has now been forced to pay for Rio's lies because Rio has staunchly refused to allow minority shareholders to have a voice on Turquoise Hill's board of directors," he said.
Mr Stausholm said Ro's contribution to the settlement was in the right proportion.
Turquoise Hill needs an additional $3.4 billion to complete the underground expansion and expects to be able to find more than half of that amount by refinancing existing debt and taking on new debt.
Turquoise Hill will also be obligated under the agreement to raise funds through an equity issue by August 31; the equity issue must raise at least $650 million, with Rio set to take its share of the raise.
Former Turquoise Hill chief executive Ulf Quellman had publicly pushed back at Rio over how to fund the shortfall.
Mr. Quellmann was ousted shortly after taking that position and relations between Turquoise Hill and his relative have since been more cordial.
"We are very pleased to begin the undercut work, which is critical to unlocking the immense potential of this world-class, high-grade deposit for the benefit of all stakeholders," said Turquoise Hill's Managing Director. , Steve Thibeault.
"Following the establishment of the agreements with the Government of Mongolia and the amended Memoranda of Understanding with Rio Tinto, we now have more certainty and confidence to complete the construction of this unique mine in one generation.