South Korea becomes Mongolia's 6th strategic partner – The Diplomat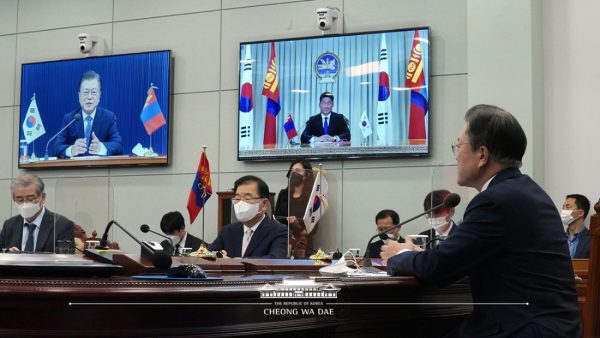 On September 10, Mongolia and South Korea held a high-level online summit. During the meeting between Mongolian President Khurelsukh Ukhnaa and his counterpart, President Moon Jae-in, South Korea became Mongolia's sixth strategic partner.
The two countries established diplomatic relations on March 26, 1990. In 1991, Mongolian President Ochirbat Punsalmaa's state visit to South Korea made him the first head of state to visit Seoul after the democratization of Mongolia. . Over the past 30 years, as Mongolia's third-neighbor foreign policy has developed, Mongolia-South Korea relations have also developed rapidly under a multi-pillar approach. For decades, Mongolia has been inspired by the development, industrialization, culture and economic policies of South Korea as one of the economic "tigers" of East Asia.
In the early 1990s, the rapid spread of South Korean pop transformed Mongolian youth. Old school K-pop groups such as HOT and SES were extremely popular in Mongolia. Not only did the young Mongolians listen to Korean music, but they also learned the Korean language, imitated Korean styles, and studied and worked abroad in South Korea – the impact was transformative.
Despite these social changes, economic and trade relations between Mongolia and South Korea remained slow but steady. Between 1994 and 2008, trade between the two countries increased from $23.5 million to $270 million. According to to a report by the Korea Economic Institute of America (KEI), "Until 2015, Korea direct investment in Mongolia consisted of small enterprises (55.5%), large enterprises (27.8%), and individual or private enterprises (16.7%) based on investment amounts. Since 2008, South Korean investments in Mongolia have targeted mining, small manufacturing, construction and agriculture. South Korean agricultural and pharmaceutical companies have also invested in Mongolia's natural resources. medicinal industry over the past two years.
On a more political level, Mongolia and South Korea, as two of the largest democracies in East Asia, both play different but essential roles in solving complex tasks in the region. Given the geographical specificity of South Korea, Seoul must make difficult decisions regarding North Korea. Westerners may not sense the imminent nuclear threat from North Korea, but in East Asia it is a ticking time bomb. North Korea's repetitive provocations – such as its cruise missile tests over the weekend – not only threaten regional peace and security, but also complicate political and economic solutions to overcome its protracted desolation. While neighboring countries such as China, Japan and South Korea have sought deterrence in the past, Mongolia has continued to push for peaceful dialogue, using its small-state mediation skills. In addition, Mongolia's non-nuclear-weapon state (ENDAN) status is a powerful boost to its credibility on the subject of denuclearization.
Since 2014, Mongolia has hosted the Ulaanbaatar Dialogue on Northeast Asia Security continue international debate and conversation on regional security issues. According to the Mongolian Ministry of Foreign Affairs, in 2017 the conference upgraded to Track 1.5 level, involving both government delegates and academics.
At the Mongolia-South Korea high-level summit on Sept. 10, Khurelsukh and Moon noted that over the past 30 years, Mongolia-South Korea relations and cooperation have developed rapidly. Moon congratulated the president of Mongolia on his election victory and said he was happy to be the first foreign president to hold a summit with the new Mongolian head of state.
Moon also stressed the importance of Mongolia in South Korea's New Northern Policy. During his speech, he pledged South Korea's cooperation in Mongolia's long-term development plan, Vision 2050.
The decision to advance Mongolia-South Korea relations to the level of strategic partnership is based on the 1990 "Protocol on the Establishment of Diplomatic Relations" and the joint statements signed between Mongolia and South Korea. South during their summits in 1991, 1999, 2006 and 2011. The constant strengthening of relations between the two countries and their peoples, according to the principles of "complementary cooperation in the 21st century", has resulted in the evolution of the relationship : a "good neighborly and friendly cooperation partnership" in 2006, a "comprehensive partnership" in 2011, and now a strategic partnership.
Under the new Mongolia-South Korea strategic partnership, the two countries have agreed to play an important role in strengthening regional and international peace and sustainable development under a multi-pillar foreign policy approach.
The Mongolia-South Korea strategic partnership Joint Statement reaffirms their commitment to building political trust and expanding cooperation between the two parliaments as well as stabilizing and strengthening dialogue mechanisms on security, defense and foreign policy issues. In addition, Khurelsukh and Moon agreed to deepen mutually beneficial and complementary economic relations by utilizing the advantages and development potential of both countries, such as South Korea's advanced technology and Mongolia's rich natural resources. .
The joint statement further said that South Korea will continue to pursue various cooperation projects with Mongolia, supporting Mongolia's post-epidemic economic recovery through official development assistance. South Korea is also seeking cooperation in projects based on Vision 2050 and has offered to assist in Mongolia's policy implementation process. The joint statement also addressed education, science and technology, environmental issues, public health, culture and tourism.
Mongolia's strategic partnership with South Korea once again shows the strength of its foreign policy. In July 2021 alone, Mongolia held high-level talks with China, Japan, South Korea and the United States. Given the growing importance of the Asia-Pacific region, Mongolia cannot afford to follow suit with a single regional player. In the past, Mongolia has established strategic partnerships with Russia, China, Japan, India, the United States and now South Korea.
This newly established partnership presents new opportunities, a new level of dialogue and increased collaboration between the two governments and the peoples of Mongolia and South Korea. It is paramount that both governments use and allocate resources correctly to produce a truly successful outcome.