Tamaska ​​completes drilling of Snow Leopard-1 in Mongolia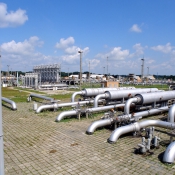 Tamaska ​​completes drilling of Snow Leopard-1 in Mongolia
TMK Energy, formerly Sydney-listed Tamaska ​​Oil and Gas, has completed drilling and testing of the Snow Leopard-1 well in the Nariin Sukhait area of ​​the Gurvantes XXXV CBM project in Mongolia, the company announced on May 10.
The well was drilled to a total depth of 675m with a total of 60m of gaseous coal intersected. Coal core desorption tests to obtain definitive gas content data are ongoing as the cores continue to produce gas, TMK said.
Sampling of the gas composition and gas chromatography tests are in progress and the results confirm that the gas has high concentrations of methane between 94.4% and 98.8% and low values ​​of carbon dioxide. carbon range between 0.3% and 5.1%, the company added.
The drill site will now be rehabilitated in accordance with local requirements. The rig will mobilize about 5 km east of the Snow Leopard-1 location, with drilling of the second of the planned four-well drilling program scheduled to begin next week.
The next well, Snow Leopard-2, is planned to target the same coal formations intersected in Snow Leopard-1. Drilling and testing of Snow Leopard – 2 is expected to take approximately four weeks. The drilling program is funded by TMK's joint venture partner, Talon Energy, under an existing two-step $4.65 million agreement. farm-out agreement performed in February last year. Initial funding of $1.5 million is allocated to the current four-well drilling and testing program.
The Gurvantes project covers an area of ​​8,400 km2 and is located approximately 20 km from the Sino-Mongolian border and close to the gas transmission and distribution network in northern China. Earlier this year, TMK completed the acquisition of Telmen Energy, which held a 100% stake in the Gurvantes XXXV project.