TMK Energy crosses gaseous coal in Mongolia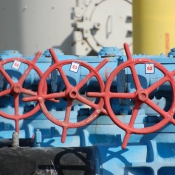 TMK Energy crosses gaseous coal in Mongolia
Sydney-listed TMK Energy, formerly Tamaska ​​Oil and Gas, has intersected 44m of gaseous coal in the upper coal bed of the first well, Snow Leopard – 1, of its inaugural drilling program in the project's Nariin Sukhait area Gurvantes XXXV CBM in Mongolia.
Gas desorption measurements from the 36 individual desorption samples collected to date are ongoing, however, preliminary results indicate the coal bed has high gas content and high gas saturation, the company said. .
Following the completion of Snow Leopard-1, three more boreholes spaced approximately 3.5 km apart are expected to be drilled and tested over the next three to four months. Once the drilling program is completed, the data obtained should allow TMK to convert part of the 5.96 trillion feet independently certified3 gross potential resources into a first contingent resource for the Nariin Sukhait region at 2H 2022.
The drilling program is being funded by TMK's joint venture partner, Talon Energy, under a two-stage $4.65 million affermage deal signed in February last year. Initial funding of $1.5 million is allocated to the current four-well drilling and testing program. The second stage of funding, in the amount of $3.15 million, is currently budgeted for the pilot well program scheduled for later this year, if the project proceeds to the second stage of farmout, TMK said. .
the Gurvantes the project covers an area of ​​8,400 km2 and is located approximately 20 km from the Sino-Mongolian border and close to the gas transmission and distribution network in northern China. Earlier this year, TMK completed the acquisition of Telmen Energy, which held a 100% stake in the Gurvantes XXXV project.