TMK intersects gaseous coal at the SL-02 well in Mongolia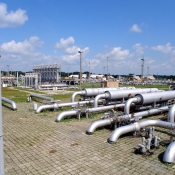 TMK intersects gaseous coal at the SL-02 well in Mongolia
On May 23, Australian firm TMK Energy said drilling on Snow Leopard-2 (SL-02) in the Nariin Sukhait area of ​​the Gurvantes XXXV Coalbed Methane (CBM) Project in the South Gobi Basin in Mongolia intersected about 70 m of gaseous coal from the upper coal bed.
The company added that the coal core of SL-02 has been sampled for gas desorption tests, and preliminary results indicate that the coal has a high gas content. Drilling at SL-02 is currently at a depth of 360m and is continuing to target a deeper coal bed believed to exist there.
SL-02 is expected to be drilled to a depth of approximately 600m and targets the same coal formations intersected in SL-01. Further gas content results and SL-01 permeability test data confirm the high gas content results for the first six SL-01 desorption samples between 11.4 m3/t and 15.2 m3/t and on average 13.2 m3/t.
The final high gas content values ​​of the initial SL-01 desorption samples are higher than expected, TMK said. The remaining 41 desorption samples from SL-01 continue to produce gas, and final gas content values ​​will be confirmed once gas desorption rates have decreased to the level required for a final measurement.
The Gurvantes project covers an area of ​​8,400 km2 and is located approximately 20 km from the Sino-Mongolian border and close to the gas transmission and distribution network in northern China. Earlier this year, TMK completed the acquisition of Telmen Energy, which held a 100% stake in the Gurvantes XXXV project.