Travel to Mongolia, Middle East, Ukraine and other topics – Daily press briefing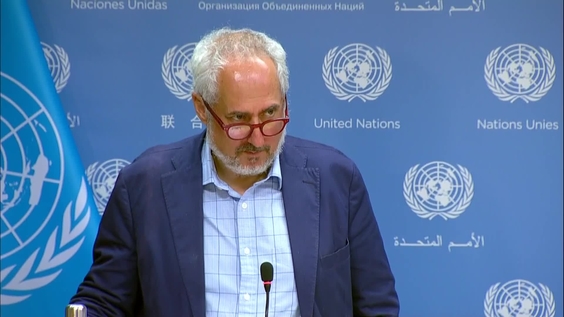 The Secretary-General arrived today in Ulaanbaatar, the capital of Mongolia. He will then travel to the Republic of Korea.
The United Nations Special Coordinator for the Middle East Peace Process, Tor Wennesland, continues to closely monitor the implementation of last night's ceasefire agreement and commitments, including the opening of Gaza to humanitarian aid. He will brief the Security Council at 3 p.m. today on the ceasefire and escalation-related developments.
The United Nations, together with its humanitarian partners, today released a revised Humanitarian Flash Appeal for Ukraine. Financial requirements have increased from $2.25 billion to $4.3 billion.
The Secretary-General addressed – via recorded video message – the signing ceremony of the Doha Peace Agreement between the Chadian transitional authorities and the politico-military groups.
In a statement issued on Friday afternoon, the Secretary-General and the Chairperson of the African Union Commission, Moussa Faki Mahamat, welcomed the successful conclusion of the decision-making meeting on certain aspects of the Agreement for peace and reconciliation resulting from the Algiers process. .
The United Nations Office for the Coordination of Humanitarian Affairs (OCHA) continues to provide essential assistance to millions of people across Ethiopia, which is facing its worst drought in 40 years.
The United Nations Multidimensional Integrated Stabilization Mission in the Central African Republic (MINUSCA) today said it has supported a community violence reduction program called "Tena de Tena" or Hand in Hand.
Regarding reports of a major fire in Cuba's Matanzas province, the UN team on the ground said the situation has worsened in recent hours due to the collapse and explosion of two fuel tanks. According to local authorities, 4,000 people have been evacuated, although the highest concentrations of pollutants are in the area near the fire, with a risk of spreading.
The Secretary-General congratulates President Gustavo Petro on his inauguration in Colombia and commends the President's commitments to deepening and expanding peace, promoting and protecting human rights and gender equality, and fostering inclusive development, to safeguard the environment and to contribute to the fight against climate change currency.
The United Nations Population Fund (UNFPA) today appealed for $10.7 million to provide lifesaving health care to more than 2 million women and girls in Sri Lanka over the next six months. month.